Why Our Guests Love Us
FIVE STAR LOCATION An easy walk to just about everything you would want to see, do or eat.
Our Staff provides a LEVEL OF SERVICE WAY BEYOND what is expected.
LOCALLY OWNED AND CARED FOR.
We are in the final stage of completely ELIMINATING SINGLE USE PLASTICS.
COMPLIMENTARY coffee, biscochitos, and yogurt every morning.
We GUARANTEE you the BEST PRICE available when you CALL us directly (800) 930-5002 or
BOOK HERE NOW
We have designated DOG FRIENDLY rooms with enclosed outdoor patios ($35 per dog nightly).
We are currently ranked by TRIPADVISOR 3rd of 63 hotels in Santa Fe.
TESLA(16kW) and EV(10kW) charging stations available onsite.
"I almost did not want to give it 5 stars, fearing everyone would know our secret. The high point of our trip was this inn. So beautiful and functional. The customer service is amazing. If I won the lottery, I would rent a room for life."

Wendy J, Santa Barbara CA, June 2021
"The staff is caring, attentive, and very customer oriented. I love that the motel is eco friendly with Tesla and EV chargers complimentary to guests and the Elkay purified water dispenser located in the lobby made it super easy for me to refill my Hydro Flask. I will be staying there in the future as needed for business and pleasure."

Jane K, Tucson AZ, September 2020
"While the Marriott is a nice hotel, there is no comparison to this boutique-style Inn. From the family-friendly staff to the fabulous location, I am sure this is Santa Fe's little secret! My kids and I were pleasantly surprised by the charm of Santa Fe Motel & Inn. It could easily be described an over-achiever when it comes to its focus on guest satisfaction. There were so many little details added like the "purified water" bottle to all the exercise and stretch equipment for personal use in each room. The kitchenettes are equipped with Cuisinart pans, dishes, condiments, toaster and single-serve coffee machine, which I enjoyed using while making breakfast and dinner for the kids. Definitely recommend to and single parent family with kids or lovely couple without. Inspired a new tradition to visit Santa Fe every year!"

Esther, Dallas TX DEC 2020
"Great location. Very friendly staff. Very clean. Fast Tesla Charger!!! I didn't have to drive across the city to go to the Tesla supercharger to top off before heading back to Colorado."

Kelly D – Denver, Colorado, May 2021
"Better than most high end hotels. Loved all of the little things that were included with the room, from the covered porch with chairs, to the yoga mat and roller (for your back), plenty of hangers, shampoo/conditioner/body wash dispenser in the shower, hand sanitizer and lotion, coffee maker, microwave, refrigerator, etc. Someone knows what they are doing @ this complex! High end hotel owners need to visit this motel and take notes!!"

Pam S – Tulsa, Oklahoma, June 2020
"Absolutely one of the best hidden pieces of Santa Fe. It's exactly where you want it to be. Railyard on one side and Plaza on the other. 20 minutes to Ten Thousand Waves, 10 minutes to Meow Wolf. Walk to farmers market, the Railrunner, many breweries, La Choza, Whoo's Donuts (blue corn). Beautiful hidden entrance, safe, secure. Privacy galore. Love it behind the gate.... Every time we came back to the Ristras at the gate we had a smile contest. This is an amazing place. Will be back."

Paul, Denver CO. December 2020
Neighborhood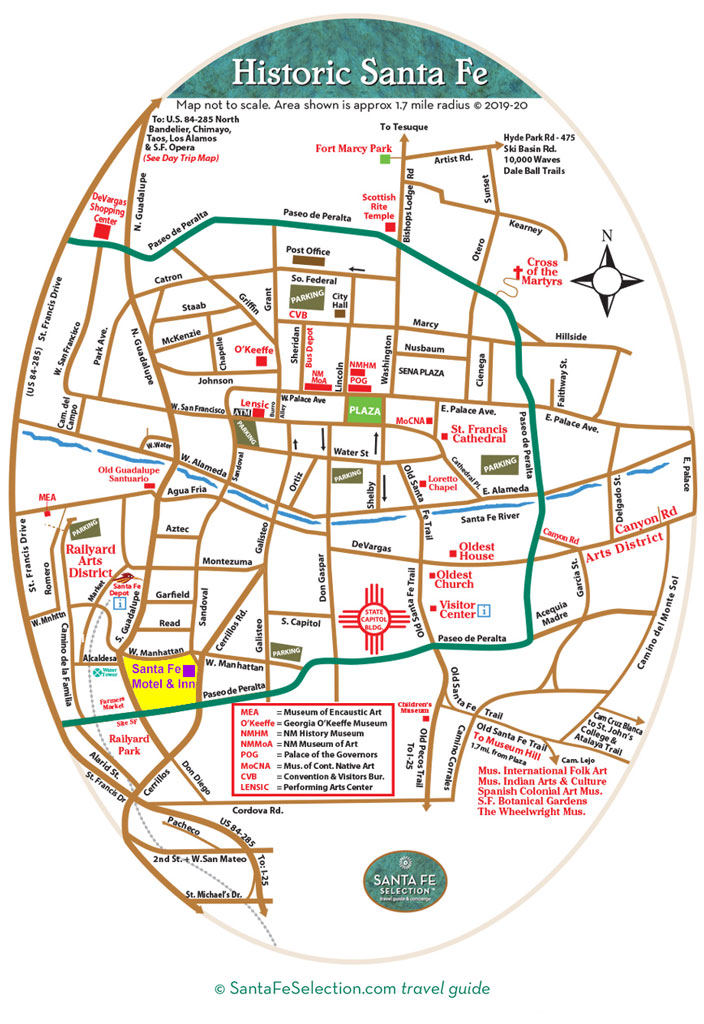 Farmers Market: 0.2 mi
Train Station: 0.3 mi
NM State Capital: 0.4 mi
Whole Foods: 0.4 mi
Santa Fe Plaza: 0.6 mi
O'Keefe Museum: 0.6 mi
NM Museum of Art: 0.6 mi
History Museum: 0.8 mi
Trader Joes: 1.0 mi
Folk Art Museum: 2.0 mi
Meow Wolf: 3.6 mi
Santa Fe Opera: 6.8 mi
Hyde State Park: 8.4 mi
Santa Fe Airport: 12.3 mi
Santa Fe Ski Basin: 16.1 mi
ABQ Airport: 64.7 mi
Taos Plaza: 70.3 mi
Paris, France: 5,127 mi